Retirement Planning and Investment Consultants
Craig Johnston Asset Management Ltd (CJAM Ltd) has a niche position in providing financial advice on pensions and investments, specifically the outsourcing of investments to portfolio investment management specialists with whom we work very closely.
Our clients are typically professional and/or retired individuals with six figure sums or more under management; they are primarily based throughout the UK, and some have retired or taken work overseas. We are a fee based company.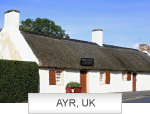 For more information or to arrange a consultation, initial enquiries can be made to craig@cjamltd.co.uk